Friday the 19th October
.. Setting off for Westport for the Cape Classic surf comp run by the Buller Boardriders to be held at Tauranga Bay by Westport. Four in the car, Me, Hayley, Jono and Jordan. Jono did the pickups and we eventually got everything squeezed into his car and were out of Dunedin by 7.30am. Armed with some good sounds and heaps of snack food the predicted 9-10 hour drive up to Westport seemed a little less daunting.
Above two pics, Driving through the Canterbury Plains with the Southern Alps in the far distance. After a quick stop in at my daughter Ambers' flat in Ashburton to pick up a box full of Bakery ends for the weekend. Somehow while it was my turn to Drive we took a 'shortcut' to Arthurs Pass, and managed to get lost through the myriad of backroads, got on track eventually and headed cross country through the Southern Alps (pic Below entering the Pass)
After a gorgeous scenic trip through Arthurs pass and up the West Coast from Greymouth to Westport we arrived at The Camping Ground in Westport at about 5.30pm, quickly dumped out gear and took off to check out Tauranga Bay for a free surf.
(pic above, just take note of how calm the Bay is, in the next few posts over the week you will see a drastic change in the surf conditions). Below two Hayley and Jono surf the Bay.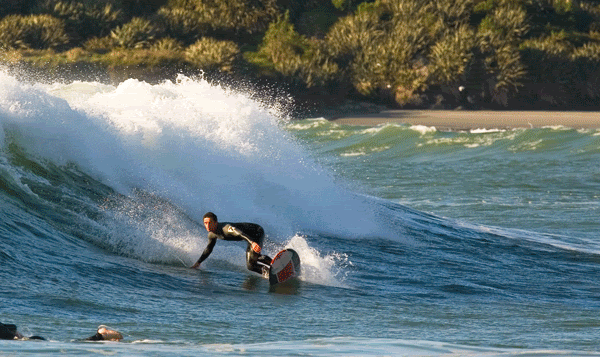 Below, registration night for the Cape Classic hosted by Buller Boardriders.
Come back tomorrow for the next blog post in the westport trip - Highlights from day one of the Cape Classic Surf Comp