Sunday the 21st of October
- Day Two of the Bayhouse Cape Classic Surf Comp.
A week ago we were checking the swell maps to see what was in store for us, at first it looked like it was going to be flat for the comp weekend, but as the days passed leading to the event, the colours changed, the isobars tightened, and we knew that by the end of the weekend we would be facing some massive surf. Sunday's conditions were no surprise, with a jump up from yesterday to about 6 foot in the morning. Two below- An early shower reigned over the first few heats. The Bay was filled with foam and whitewash.
Above- the sun finally came out as the swell steadily built, some clean faces emerged as the wind died. Below two: Left- deliberation in the judges tent, Right- the road to the end of the Bay lined with mini grandstands.
Above: the longboard semis Below two: Left and right Cadets and Junior semis.
Above and below: Tony Schafer, the style master
Above two: Left- Sophia Moore and Right- Hayley Coakes in their Semi heats.
Below: Just to give you some perspective of the conditions in the Bay. Pic taken after lunch, the arrow points to a competing surfer (magnified in the box). On the rocks halfway between the arrow and the seagull is Jesus Rock, the jump off point for out the back, to avoid the paddle out.
Above Two: Indescribable conditions, waves twice as deep as they were high. The wind whipped up again mid arvo and a sea fog hovered around the bay. The conditions were quite challenging to photograph, I thought that I had it sussed, but the westcoast light is very different than Dunedin's. With the sun almost overhead and shining on the backs of the waves, and the glare off the foam played havoc with my light meter readings, so I lost alot of what I thought were going to be good photos, I will put them up in another post tomorrow.
Below: Special mention, during the finals of the cadets, Jordan Durst first paddled out through the rip to right out the back, after a few waves, and his heat nearly over he climbed out at the inside rocks and ran around the side of the bay, then without hesitation jumped off Jesus Rock to complete his final.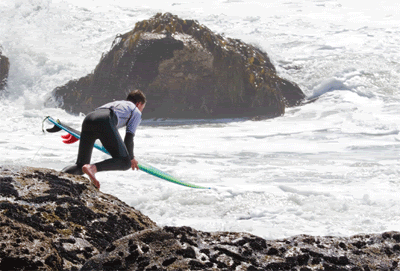 More photos from Day two will be posted tomorrow, including the pics from the prize giving.