In September I spent a few weeks building a new webblogsite, with the aim of restarting the group "Friends of Blackhead". The original group was responsible for negotiations between the quarry owners and DOC resulting the placement of the Covenant on the Roman baths and Dock headland rock formations in 1991. The aim for the reform was to ensure the conditions of the 1991 covenant were upheld, and protected.
I haven't got the energy to do all this myself, so if anyone is interested to have an informal meeting, and do some work, then please leave a comment and discuss here or at the
forum
on the
Friends of Blackhead
website.
The Blackhead headland "
Dipping Out
" on New years Day 2010, view from Ocean View Beach.
Profile is getting closer to my prediction last year, Below
I think C may even occur easily by 2030 not 2060.
Below, original photo used for the top frame above, courtesy of Lloyd Godman.
And even more startling... What Blackhead REALLY used to look like in 1908, looking across Waldronville (pre development) from Saddle Hill. With my photoshopped comparison of what the headland profile was like September 2009.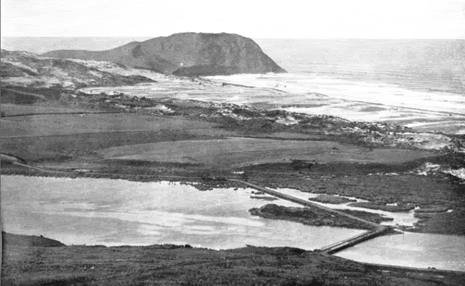 more on the website
http://friendsofblackhead.wordpress.com/